Alumni Video: ITA Graduate, Jacklynn Blanchard, Provides an Inside Look at Life as an English Teacher in Ho Chi Minh City, Vietnam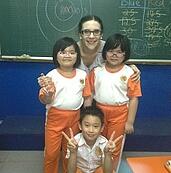 A native of Littleton, Colorado, who had never left North America, Jacklynn Blanchard was looking for adventure and a challenge when she took International TEFL Academy's 170-Hour Online TEFL Certification Course and headed to the heart of Southeast Asia to teach English in Ho Chi Minh City, Vietnam.
In this new alumni video, Jacklynn discusses the challenges and rewards of moving to a totally new part of the world for the first time and how making Vietnam her home for the past year has built her self-confidence in all aspects of her life. She also discusses how her TEFL course prepared for her job as an English teacher as well as the ins and outs of life in Vietnam's largest city, including her job, how she found a place to live, riding public transportation and making friends.
To learn more about Jacklynn's experiences, check out:
Ho Chi Minh City (Saigon), Vietnam Q&A with Jacklynn Blanchard
and her articles, A Day in the Life of an English Teacher in Vietnam
and On Her Way: My beginnings in Vietnam - Teaching English Abroad.
To learn more about Teaching English in Vietnam, check out: