TELL US ABOUT YOURSELF
What is your citizenship?
United States
What city and state are you from?
Brooklyn, New York
How old are you?
52
What is your education level and background?
Master's Degree in Education
Have you traveled abroad in the past?
Some international travel with friends, family, business, etc.
If you have traveled abroad in the past, where have you been?
Europe, Middle East
What sparked your interest in going to teach English abroad?
I have a degree in teaching, and always wanted to do it when I was younger - but life came along, family responsibilities. Then the empty nest arrived and I thought, fulfill that dream, the desire to travel and teach.

TEFL CLASS INFORMATION
Why did you decide to get TEFL certified and choose International TEFL Academy?
As I started the searching process, International TEFL Academy had the exact places I wanted to get trained and could help me get a job.
The price of the TEFL class was very reasonable, and the staff on the telephone at ITA were friendly answering my questions from the sensible to the mundane all the way through the silliest of questions all with the same enthusiasm and professionalism.
Which TEFL certification course did you take?
Cambodia - Phnom Penh TEFL Course
How did you like the course?
At first I thought, great holiday experience - then came to realize that it was part of a weeding out process, and the experience was the best formula for exposure to a foreign country.
How has your TEFL training helped you in your current teaching position?
The TEFL certification was asked for at every interview. Even though I have an M.Ed. in multi-cultural education, including a TESOL. Go figure.
Although, from what I gathered, they were looking for cultural assimilation (in country culture exposure).
TEACHING ABROAD IN THAILAND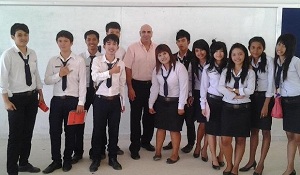 Which country did you decide to teach English in and why?
Currently, in Thailand. It was not my original choice, so I am still deciding.
How long have you been in this country and how long do you plan to stay?
I have been here for 18 months and am not sure how long I will stay but will stay in Asia for many years to come.
How did you secure your English teaching job?
Knocking on doors! A face to face interview.
How did you get your work visa? If you didn't get a work visa, please elaborate on working under the table without a work visa.
The language company and then the university secured the work visa for me, I have not worked under the table.
Tell us about your English teaching job!
Currently for the past 9 months a University. I teach 12-15 contact hours and earn about $1500 a month. I can save money, if I want, it is a personal choice.
The students are wonderful and the experience is grand! As well as the facilities and programs. Only problem, "SOME" Thai staff can have huge attitudes, laced with elitism, prejudices, and always trying to get over, regarding money and hours, honestly there are two standards. BUT I choose to ignore them and enjoy my classes, my students, my daily positive experiences.
How did you find somewhere to live and what is it like? Do you have roommates?
No roommates, and again knocking on doors, maybe getting a local to help, and my common sense.
My living experience has been fantastic, I usually live in a hotel or service apartment. I have all the comforts of home: A/C, western toilet, hot/cold shower, cable, internet, and fridge.
COUNTRY INFORMATION - FUN!
Please explain the cultural aspects, public transportation, nightlife, social activities, food, expat community, dating scene, travel opportunities, etc. about your country:
Amazing, exciting, different than anything I would have ever imagined!
COUNTRY INFORMATION - MONEY
What are your monthly expenses?
In US dollars:
Rent: $230+
Food: $200
Phone: $15
Transportation: I purchased a motor bike about $1000, local buses $.30
Activities/Traveling: Everyone is different. I do travel at every opportunity and tend to spend much more than necessary so about $400.
Medical Insurance: $100
How would you describe your standard of living?
Enjoyable and comfortable
In your opinion, how much does someone need to earn in order to live comfortably?
Minimum $1000 US dollars a month. I make $ 1500 a month teaching 12-15 hours a week at a university.
ADVICE FOR PROSPECTIVE TEACHERS IN THAILAND
What advice would you give someone planning or considering teaching abroad? Would you recommend teaching in your country?
Remember WE are a GUEST of another country!
Our manners, customs and attitude are on display. This includes choosing your clothing and dressing appropriately.
Plan, plan, PLAN your trip and then plan for the unexpected, then go with the flow or return home. No one wants to see a foreigner with a sour face!
Most of all embrace the place people and adventure you having!!!
Have fun - you are living someone's dream - yours!!