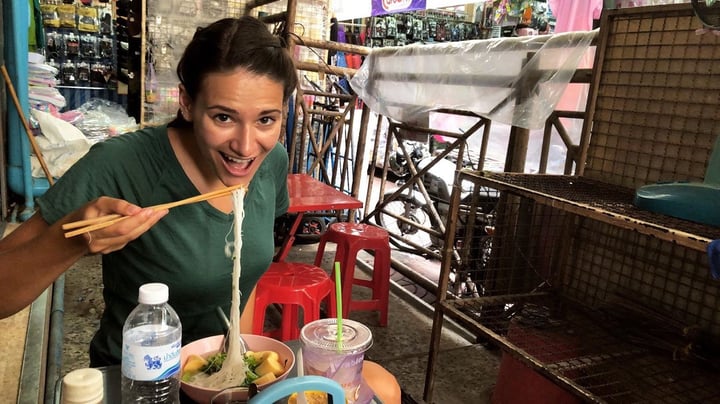 By Nicola Rae
You've just spent a fun-filled day in Bangkok, but now it's night time. You want more fun. But where to start?
From board game cafes to night markets to dance clubs, there is no shortage of fun things to do after dark in Bangkok. If you are going to a club, make sure to look nice because the dress code is enforced. Guys need to have on pants and a shirt with sleeves (no tanks, sorry!). Girls can get away with a dressy tank top and shorts but it has to be put together, no beachy casual in BKK.
1. Hang out in a board game cafe
I recommend Ninive Games for all your board game cafe needs. This board game cafe has tons of games to choose from and really good pizza. This is also the place where we had our ITA Bangkok Meetup (shout out!) where we ended up playing Pandemic until the wee hours of the morning. To get here, take the BTS to Phra Khanong.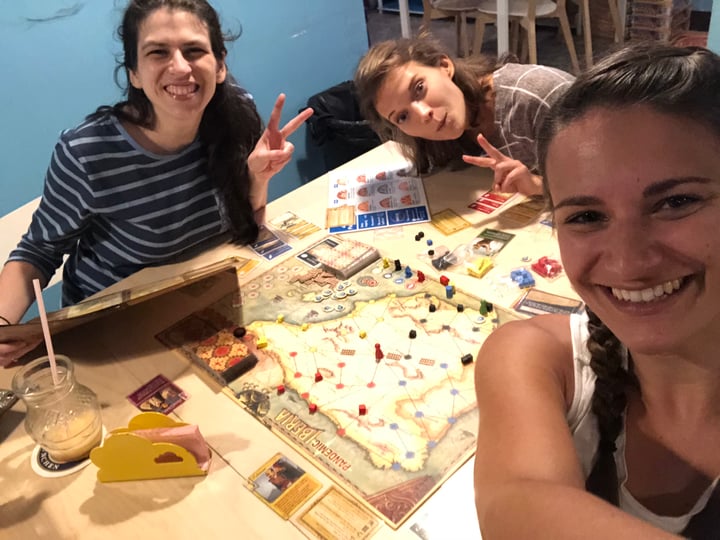 2. Asiatique
This is a super nice night market located right along the river. It has shops, restaurants, and carnival rides if you're feeling really crazy. To get there, take the BTS to Saphan Taksin and walk down to the pier. There is a free river boat shuttle from the pier to Asiatique, just follow the Asiatique signs.
3. Rot Fai Market Ratchada
Okay this night market absolutely blew my mind. I love this market so much. It was incredible! It is open on weekends (Thursday - Sunday) from 5:00pm - 1:00am. There are thousands of stalls selling clothes, trinkets, and food, glorious food. There is so much food here! Around the edges of the market are bars and sit down restaurants with amazing views. The craziest part? This is the smaller of the two Rot Fai Markets! There is another one just like this one but much bigger. It's pretty far out in the suburbs, so if you want night market awesomeness without a 45 minute cab ride, the "little sister" Rot Fai Market is your move. Take the MRT to Thailand Cultural Center and follow the crowds.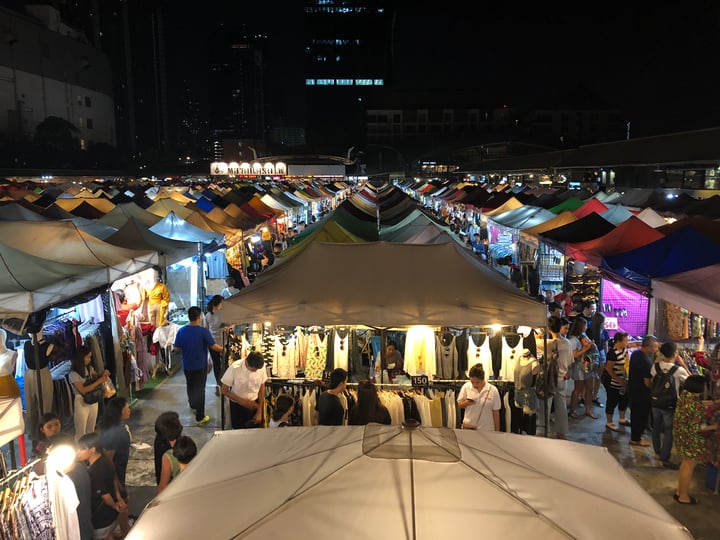 4. Ladies Night Specials
If you're a lady, Bangkok clubs and restaurants offer some sweet deals. At Ce La Vi in Sathorn, Champagne is free for ladies from 9:00pm - 12:00pm every Wednesday. This is bar has an amazing view of the city and it's decorated to feel like you are in an enchanted jungle. If dinner and drinks is more your style, Roots in K Village has a special every Thursday night where ladies get four free drinks with each food purchase. Four. The food is good and the outdoor ambiance is quite peaceful. Also, Four.
5. Havana Social
Okay, you know a bar is going to be good when you enter through a telephone booth! Havana is a cuban themed dance bar with live music and latin rhythms. The bar is beautifully designed and it feels like you are walking into a different era. The drinks are quite good here as well. The cover is 300 TBH (about $9 USD) but that includes a welcome drink. I recommend the mojito.
6. Escape
No, this isn't an Escape room. Escape is a rooftop bar at the top of Emquartier. It is beautifully designed and very laid back. There are lots of places to sit and enjoy drinks while taking in the city views.
7. Skybar
You've probably heard of this rooftop bar. It's the one from the Hangover 2 and that means it's become a huge tourist attraction. The drinks are quite expensive but it's worth going at least once to see city all lit up at night. Pro tip - if you go around sun set, you can get pretty pictures of the city in the day as well as at night.
8. Khao San Road
Everyone traveling to Bangkok has to see Khao San Road at least once. This is one of the biggest backpacker party places probably ever and the streets are crowded with tourists, party-goers, food vendors, and all kinds of other mayhem. Drinks are cheap on Khao San Road and the dress code is casual. While there are bars and clubs here, most people just dance in the street.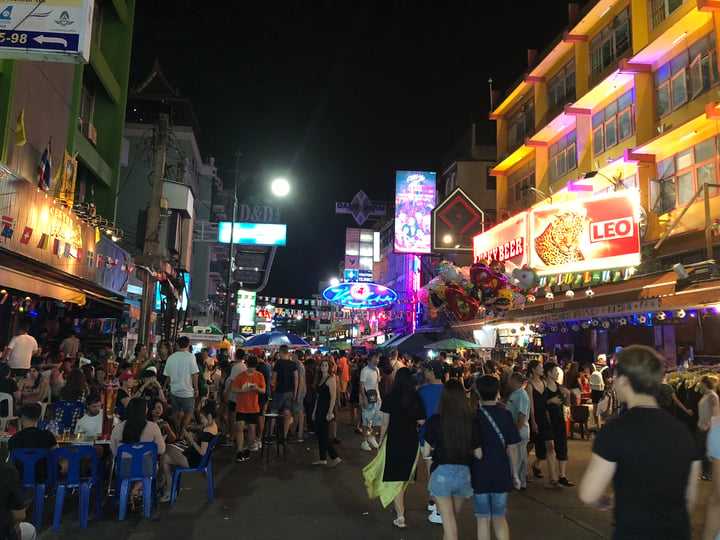 If you're looking for fun things to do in the evenings, Bangkok doesn't disappoint. And if you're looking for awesome people to do those things with, head over to the ITA Thailand Facebook Group to find some of the coolest English teachers around!
In the month I spent in Bangkok, I feel like I barely scratched the surface of what this city has to offer. And trust me, I tried. Like, multiple nights out in a row on school nights, tried. As fellow teachers, surely you understand the magnitude of this.
Night after night I was amazed by uniqueness and excitement of this city. I was amazed by the delicious food, the variety of the markets, the kindness of the people I met along the way. I know in the future I'll come back to Bangkok and I absolutely can't wait.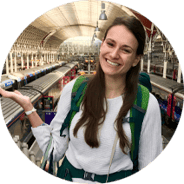 Nicola is an Atlanta native who loves teaching, budget travel, and guacamole. She holds BA's in Anthropology and Sociology from the University of Georgia and a Masters in Education from Francis Marion University. She is currently teaching English online while house sitting. Whens he's not busy teaching or drinking coffee in cozy cafes, Nicola enjoys writing about her travels on her blog seenicwander.com.
Want to Learn More about Teaching English Abroad?
If you are excited about teaching English from either the comfort of your own home or anywhere in the world, contact us about TEFL certification options and get ready for a great adventure!
Related Resources: