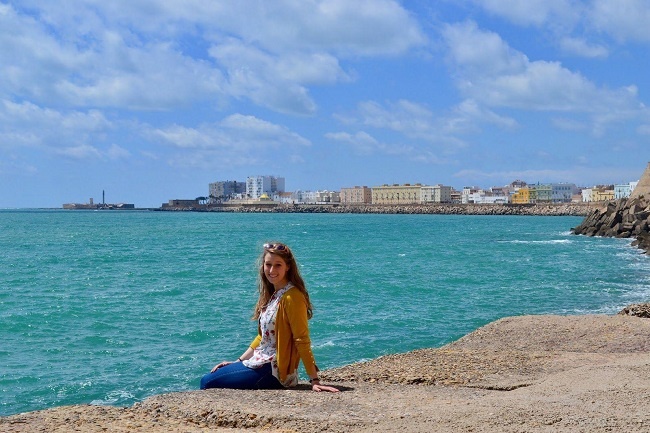 By: Laura Hoppe

La vida no es la que uno vivió, sino la que uno recuerda y cómo la recuerda para contarla. Gabriel García Márquez (known as "Gabo"), one of Colombia's most beloved authors, once wrote this very sentence. "What matters in life is not what happens to you but what you remember and how you remember it."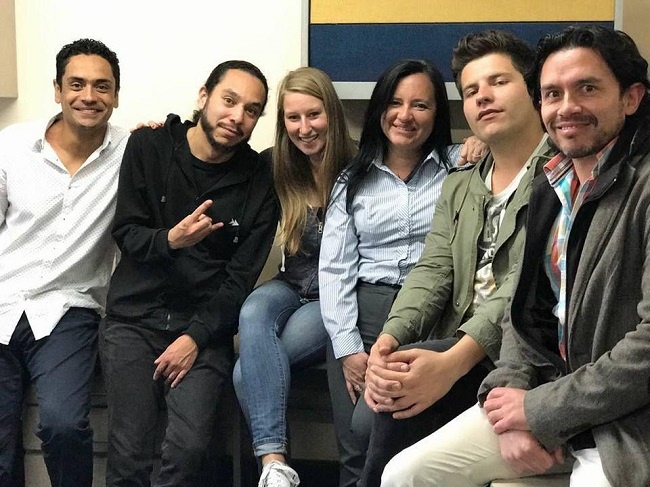 Colombian coworkers
Just around the New Year in 2017, I found myself lying on a quiet beach in a quaint fishing village on the coast of Ecuador. It was Christmas break, and I'd decided to take advantage of the generous amount of vacation days to bus my way down through southern Colombia to Ecuador. Next to me was my travel buddy and new teacher friend from Germany who I'd met during the previous semester while working as an English teacher at a university in Bogotá, Colombia. In my hands was Love in the Time of Cholera--a gift from a student of mine.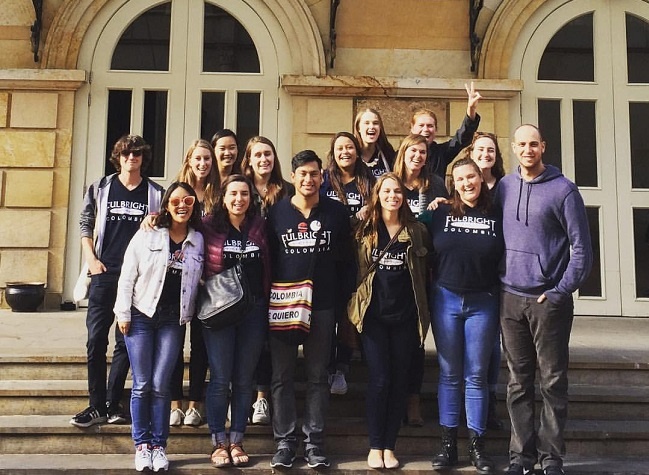 Some of the Fulbright Colombia ETA scholars, 2017-18:
My 10 months as a Fulbright scholar in Colombia's massive and bustling capital city was not necessarily a walk in the park. I quickly needed to improve my Spanish, move apartments three times, and navigate working in a university environment. Nonetheless, while sitting on that beach in pure bliss and tranquility, reading what would then become one of my favorite novels, I realized that just one more semester abroad wasn't going to be enough.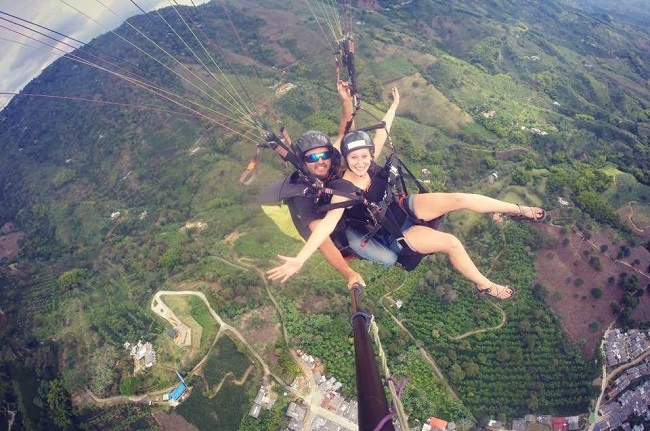 Some of the Fulbright Colombia ETA scholars, 2017-18
Gabo's description of Colombia's tropical coastline and relaxed pueblo lifestyle made me reminisce about my life in Colombia...when I was currently living there. How could I feel that I miss something that I currently have?! I was in love with the country, the generosity and warmth of the people, the food (the arepas and buñuelos and fried plantains to name a few), the landscapes, and the overall happiness I saw in people. I too wanted to be happy and enjoy my life. I was happy. In fact, teaching and living abroad was without a doubt the best decision I'd made. There was more to the world that I had to experience. I created so many incredible memories during my time in Colombia, and I wanted to continue living a memorable life abroad.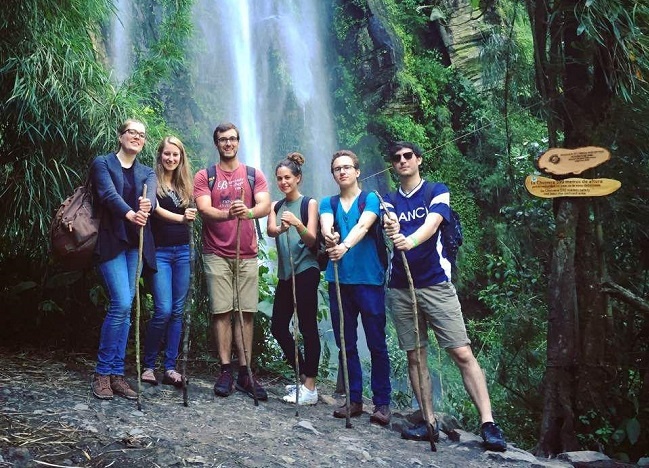 Other international language teachers at my university in Bogota
It was around January, when applications for teaching programs in Spain started to open up, that I scrambled to gather up letters of recommendations and write essays about why I wanted to teach in Spain. Although Colombia will always hold a piece of my heart, I knew I needed to branch out, teach more diverse age groups, learn other classroom management techniques, and expand my capabilities as a teacher in a new setting.
To accomplish these goals, I needed a TEFL certificate. Another Fulbright scholar recommended ITA to me, and I soon discovered that I could painlessly sign up for an online TEFL course, do the work at my own pace, and improve my teaching skills immensely in just a few months. The course helped me put names to techniques I'd already been using in the classroom, but it also opened up my eyes to the art of lesson planning, tips for working with young learners, and how to manage large classrooms of students.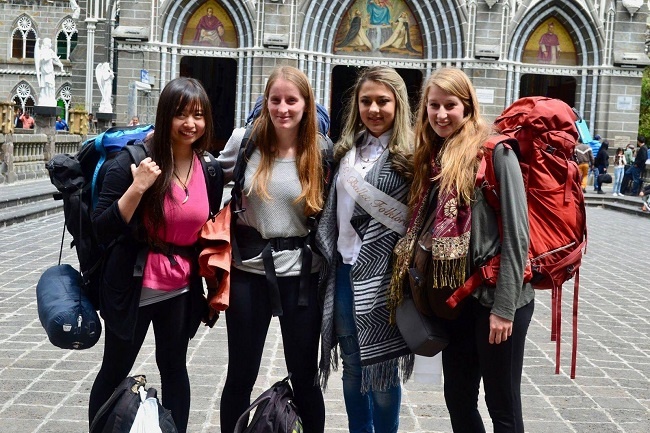 Backpacking Trip to Ecuador
Just a few months later, I had to pack my bags and leave Colombia. I headed for home: Minnesota, USA. I enjoyed a summer of catching up with friends, seeing my sister get married, and working in the deep of the Northwoods, renting canoes all summer. I made my visa appointment trip to Chicago into a mother-daughter trip, enjoyed my last American pizza, and set off for my next teaching job in Madrid, Spain.
Why Spain?
First, I had never been to Europe, but thanks to my experience teaching with a diverse cohort of international teachers in Colombia, I had many new European friends. Remember that German travel buddy I mentioned before? She was the first friend I met up with just a couple weeks after arriving in Madrid, and it felt as if nothing had changed. As hard as saying goodbye is in the moment, the beauty of traveling and meeting people from around the world is that you never know when you'll be able to finally see them, and when you do, it's a wonderful feeling! We could finally use our Colombian slang with each other and gush over our love of arepas de choclo. Ush, que rico!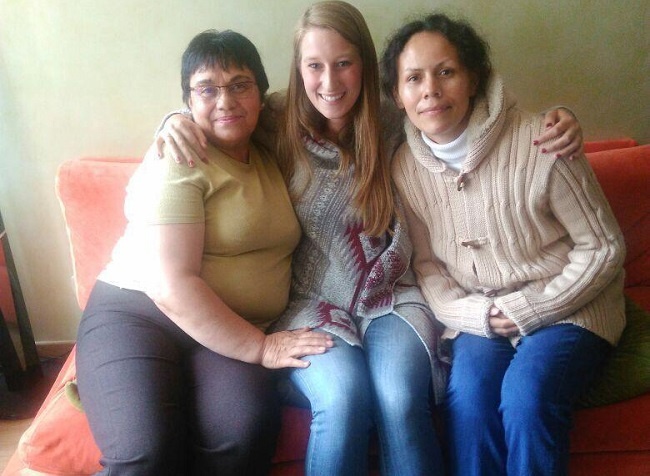 Saying goodbye to my adult English students in Colombia
Another reason I wanted to go to Spain was to experience the differences and similarities between Latin American and Spanish culture. My majors in college were Spanish Language/Literature and Latin American Area Studies. I previously spent a year studying abroad in Mexico and then a year in Colombia. I studied so much about Latin America, both in books and (quite literally) in the streets during my daily life in the two countries. I was curious to learn about Spain, the country that played a part in creating what Mexico and Colombia are today.
The Differences
I arrived to Madrid in 2017 and, boy, was it love at first sight! While I struggled with the bus system in Bogotá, I easily figured out Madrid's efficient and affordable metro and train system. The fruterías (fruit shops) and panaderías (bakeries) with fresh breads reminded me of Latin America, but with different types of fruits and baked goods to offer. While I believe the transition into my Madrid life was quite effortless compared to transitioning to Bogotá life, I still ran into some bumps in the road.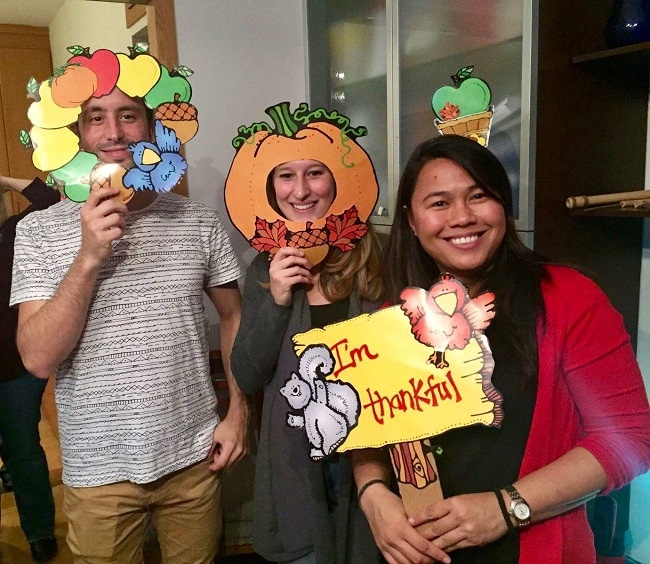 Thanksgiving with my new roommates in Madrid
First, the language. Holy moly do Spaniards speak fast! I felt as if I'd been studying an easy, slow version of the language over the past ten years. I had to get used to asking people to repeat what they had just said, something I didn't do much in Colombia or Mexico. In addition, Spain uses "vosotros" more than "ustedes"--a type of conjugation I hadn't studied since junior high school! Not to mention the accent, the expressions, and the idioms are different. However, after a year here I can gladly say that I'm adapting. Poco a poco!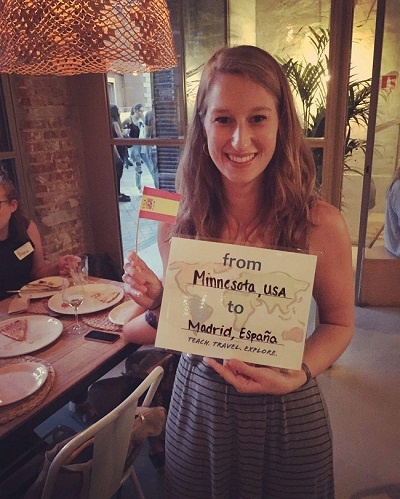 The second and most important difference I've experienced here in Madrid is the work. In Bogotá, I worked in a language center at a private university. My students were deans, professors, and other adult students studying to be English teachers. I had one-on-one classes with the dean of the religion department about morals and ethics. I had amazingly deep conversations about Colombia's political situation and history with a professor who was also a journalist and poet (the one who later gifted me Love in the Time of Cholera). I learned about child psychology and the poverty crisis in Bogotá with the Vice Chancellor. These were my students--my amazingly intellectual, inspirational students. I loved my work in Colombia mostly because I formed close bonds with my regular students, even if they were 30 years older than me.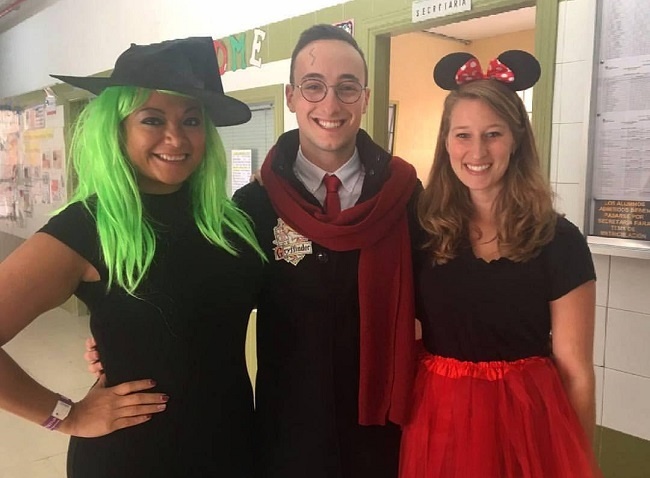 Halloween with the other language assistants in my school in Madrid
Fast forward a year, and here I am teaching the YouTube sensation "Baby Shark" and reenacting The Three Little Pigs with 5 year-olds. At first I thought, "What did I get myself into? I have no idea how to teach five-year-olds. Can they hold a pencil? Do they know how to read? Do they understand me even a little bit?" I had so many doubts about teaching little kids simply because I had never done it before. I doubted all my teaching techniques. I failed. A lot. I created activities that were too hard. I came to class with games that were too easy. I had a difficult few months learning how to go from teaching adults to children. What saved me was my co-teachers, my amazing English department director, and my German friend who seemed to be in the same boat some days, but as a teacher in Germany. The support system I have here is quite good. The teachers know how hard it is to work with children and they've supported me all along the way. They encouraged me, they gave me extremely helpful feedback, and they were proud of my progress throughout the year.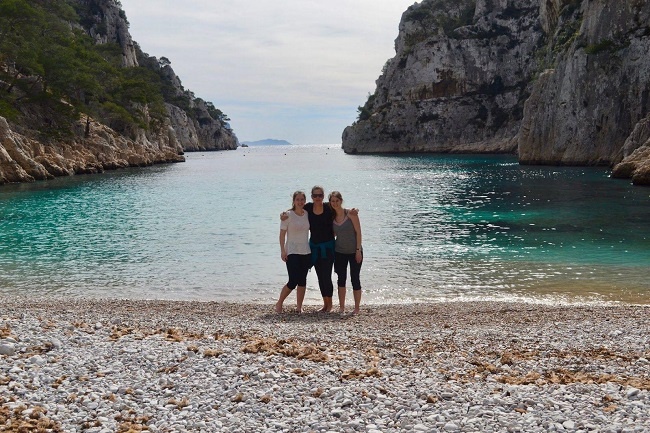 Spring break trip to France with my German and Scottish friends
In the end, my transition to life in Madrid was both exciting and challenging. I've accomplished my goal of teaching different age groups and implementing new teaching and classroom management techniques. I've grown as a teacher, and I now know I'm capable of so much more than I initially thought. Teaching English abroad wasn't just a "gap year" for me. Perhaps I won't teach abroad all my life, but these experiences--both the hard days and the simple days--contribute to a beautiful, memorable life. In September of 2018, I'll be continuing my work in the same school in Madrid while adding in the challenge of completing a master's program in International Education. I couldn't be more thrilled. Madrid, round two, here I come.

Laura Hoppe is 24 from the Twin Cities area in Minnesota. She graduated with a B.A. in Spanish Language and Literature and Latin American Area Studies from the University of Minnesota Morris in 2016. Immediately after graduation, she headed for South America to teach English as a Fulbright scholar at a university in Colombia. After her year there, she decided to get a taste of Europe and began teaching English at a K-12 school in Madrid, Spain. To learn more about Laura's experiences, check out Alumni Q&A: Teaching English in Bogota , Colombia with Laura Hoppe.