What is your citizenship?
United States
What city and state are you from?
Detroit, Michigan
How old are you?
27
What is your education level and background?
Bachelor's degree
Have you traveled abroad in the past
Never left the country.
What sparked your interest in going to teach English abroad?
I was first introduced to the idea of teaching overseas at an international opportunities fair hosted by my school, Michigan State University. I spoke to a representative from ITA and learned about the process. I was really excited about the opportunity to make a living in another country, because I had always wanted to travel but was financially tied up in putting myself through school.
Over the next year, I had a couple of friends from school who left to go teach abroad in countries like Spain and Thailand. I was thrilled listening to stories of their adventures and decided that as soon as I graduated, I too would leave the US to go work and live in another country. The most foreign destination I had ever visited prior to this was probably Disneyland in California, so this was a big decision, but I was ready and excited!
What were some of your concerns before teaching abroad?
It's funny thinking about it now, but my biggest worry once I decided to go live in Seoul, South Korea, was using public transportation - I had grown up in the suburbs and small towns my whole life and didn't know how to use the subway! The biggest source of stress leading up to my departure was the visa application process, which is a bit complicated and drawn out. Besides that, I was definitely concerned with trying to arm myself with a little bit of the Korean language before I arrived, wondering how I would make friends in a new city all by myself, and wondering if I had chosen the right school (a small hagwon, or private academy).
Luckily, the vast majority of my fears were unfounded, and I found the transition process to be fairly seamless and very well facilitated by both teachers at my school and my recruiting agent.
What did your friends and family think about you moving and teaching abroad
After my parents got over their initial shock, they were very supportive of my decision. Some aunts and uncles were concerned, mistakenly thinking that South Korea was a dangerous place, but once I assured them that North Korea was the one with a dictator, they were very happy for me. My friends were excited for me to follow my dreams, although they let me know that they would miss me a lot. Luckily, we live in an age where technology makes it ridiculously easy to stay in touch with people on the other side of the globe, so I was able to maintain my relationships with my friends and family.
TEFL CLASS INFORMATION
Why did you decide to get TEFL certified and choose International TEFL Academy?
I did a lot of research before deciding to teach abroad and most of the countries where I was interested in teaching (South Korea, Japan, China) required a TEFL certificate. In addition, I didn't have any teaching experience and thought that taking a TEFL course, along with the required practicum hours, would help to build my skills as a teacher and give me more confidence when leading a classroom.
I chose ITA because I had met with your advisors at an international opportunities fair, which originally had piqued my interest in teaching abroad. I spoke with an advisor at great length on the phone before enrolling, and he was great in answering all of my questions and sharing resources. I also had a close friend who had gotten certified through your program and had a good experience.
Which TEFL certification course did you take?
How did you like the course?
I really enjoyed my TEFL online course. I had Jan as my instructor, and I think he did a really good job in making the material clear and easy to understand. The course included a good blend of theoretical and practical knowledge, such as tips and tricks to use in the classroom.
I did my practicum at a local university (Wayne State in Detroit) and one-on-one tutored a few exchange students. They were great and I had a lot of fun working with them and learning about them.
If I were to go back, I think that I may have chosen to take the course in-person. I especially think that this would have been helpful getting experience working in a classroom setting and getting more direct feedback. However, the online course fit in my budget and time schedule better, and I feel that it definitely gave me a good basis of knowledge to begin teaching.
How has your TEFL training helped you in your current teaching position?
My TEFL training was a really great introduction to the world of teaching English as a foreign language. Honestly, I think that I learned the most from just starting work and hands on learning as I was teaching, but the TEFL course gave me some background and made it feel like I wasn't just jumping into something entirely new. It helped to give me the confidence and basic skills that I needed to get out there and start my journey as a lifelong teacher and student.
Which city and country did you decide to teach English in and why?
I decided to teach English in South Korea in the city of Seoul. I was very interested in Asia, and after doing a lot of research, South Korea came to the top of my list of places that I was interested in. In addition to the ancient culture and food (delicious, delicious food!), South Korea offered a really great package to me as a new teacher- the reimbursed my flight, provided my housing, offered health insurance and school lunches, and in addition to all of this, a generous salary that allowed my peers and me to afford a really comfortable and fun lifestyle.
I chose Seoul because I really wanted to live in a big city- something that I had never done before! Seoul was really great, with a really great and welcoming community of foreigners (English teachers and otherwise) and native Koreans, who are so friendly and kind. Seoul was also nice because it is a new, clean city, very comfortable to live in, and easy to navigate even if you do not know much Korean. I cannot recommend Seoul enough for a first time English teacher or someone who is looking to get started living as an expat.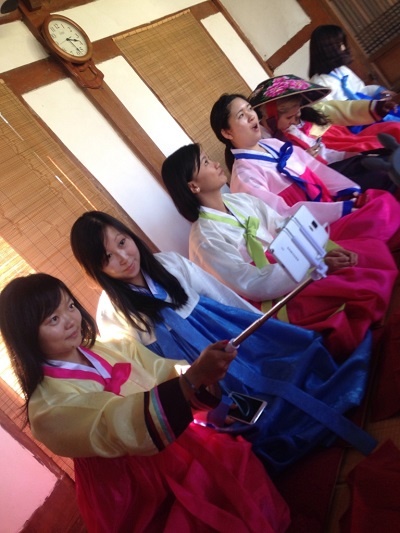 How long have you been in this country and how long do you plan to stay?
I lived in Seoul for two years. I actually just left to come home and visit family for a bit, but I will be leaving in a week for my next teaching adventure in Shenyang, China.
What school, company, or program are you working for
UBest Academy, Sadang-Isu Campus
During which months does your school typically hire?
Year round, depending on when the teachers are leaving.
Did you secure this position in advance of arriving?
Yes
How did you interview for this position?
Skype/phone
What kind of Visa did you enter on?
Work visa
Please explain the visa process that you went through.
After finding my school through a recruiter who contacted me after I posted my resume on Dave's ESL Cafe, I had to gather the necessary documents, including my Diploma, TEFL certificate, a federal background check, copy of my passport, and sealed copy of my school transcripts. Some of these I had to send to the state of Michigan and/or federal government (depending on the document) to be apostilled. After collecting the apostilled documents, I sent them all, along with my original passport, to South Korea. They sent back my documents and my passport, which now had a work visa page in it, allowing me to enter the country.
Upon arrival in Korea, I then had to visit a doctor for a health check, and then visit the Visa application office in Seoul so that the final steps could be taken for my immigration process. My school and recruiter were very helpful throughout.
What are the qualifications that your school requires for teachers? Please check all that apply
- Bachelor's degree
- TEFL Certification
- Native English speaker
What is the best way to apply?
Recruiter. Also, once in Korea, if your contract ends and you want to work for a new school, the best way to find a good job is through word of mouth (referrals by other foreign or Korean teachers usually.)
Please include any application resources (website, email, etc.) or other information here:

Dave's ESL Cafe
Tell us about your English teaching job!
Hours: I work from 8:40 AM-5:30 PM, and two days a week I stay later and work until 7PM.
Pay: Salary is 2.7 million won per month (about $2,400 USD).
Savings: Yes, I was able to save enough money to go travel for several months after teaching, as well as paying off some credit card debt and living a very comfortable lifestyle.
School: UBestA is a "hagwon" or private academy.
Students: I teach kindergarten classes from 9AM to 1PM, have a short break, then teach small elementary after school classes until the end of the day. Sometimes I teach private lessons to adults or high school students as well. I teach literally every age level: first year kindergarteners (3 years old), older kindergarten students, elementary, middle school, high school, and a few adults who are older than I am.
Vacation: I was given 10 days personal vacation per year, in addition to Korean national holidays. My vacation dates, however, were chosen by the school (one week in summer and one week around Christmas time).
How did you find somewhere to live and what is it like? Do you have roommates?
My first job provided an apartment for me, a small furnished studio where I lived by myself. It was nice, one simple room with a private bathroom and small kitchenette. When I switched schools, I decided that I wanted to move, so I chose a room in HaeBangChon (a popular "foreigner" neighborhood with lots of Western style restaurants, bars, etc.). I had two roommates in this apartment, which was fairly spacious and centrally located. My school gave me cash each month as a housing stipend to cover the cost of my rent.
COUNTRY INFORMATION - FUN!

Please explain the cultural aspects, public transportation, nightlife, social activities, food, expat community, dating scene, travel opportunities, etc...
Culture: Korea has a lovely and ancient culture, though living in the city everything is new and there is a mix of newer, "Western" ideals along with traditional ones. Culture is still very much alive and well however, and there are wonderful festivals, such as lantern festivals along the Han River, and music and nightlife everywhere you go.
Public transportation is EXCELLENT. There is a very thorough subway system throughout Seoul, and also a great network of buses. Both of these are easy to find and use using Google maps, Naver maps, or various subway apps that can be downloaded (in English or Korean). It is easy to get to any city outside of Seoul via bus or fast train (a great option for longer trips, such as going to Busan.)
Nightlife: Seoul has a great mix of Korean nightlife and also bars that are more familiar to foreigners, such as Irish pubs. Korean style nightlife is often with a big private group, and may include renting out a private room to sing karaoke, or "noraebang" as it is called there. Another popular way to hang out includes going out for meals with coworkers or friends, which often involves going from place to place with a different meal at each establishment (and plenty of soju and/or beer at each stop.)
Social activities: Outside of nightlife, there are lots of options to have fun in the city. Shopping is excellent in Myeongdong; the Han River has beautiful paths for biking, running, or walking, and plenty of places to hang out with friends and play games or just sit and enjoy the sunshine. You can rent a movie in a private room at a "DVD bang," rent a computer in a "PC bang" to play some Minecraft, or hang out at the park in Hongdae, where you can often see performers singing and dancing in the streets. Of course, singing at noraebang is always a popular option.
Food: The food in Korea is AMAZING. There are lots of noodle and rice based dishes, both hot and cold, and often very spicy. Seafood and pork dishes are popular, and "fried chicken and beer" places are a Korean take on some American classics. Popular bakeries such as Paris Baguette and adorable themed cafes can be found on nearly every corner. The street food is also killer, including such things as spicy rice noodles and fish cakes, sweet egg breads, and grilled seafood on sticks. There are also lots of options if you are looking for western classics such as pizza or McDonalds (and nearly everything can be delivered!)
Expat community: The expat community is pretty big and varied in Seoul, and you can easily find friends to do everything from hiking to yoga to just hitting the bars with. There are a lot of great Facebook and Meetup groups to link up with people who are into you scene. Since smaller towns have fewer foreign teachers, they are often very tight knit and welcoming groups.
Dating in Korea can be fun and funny and weird and awesome. Although I personally had more success dating fellow foreigners than Koreans, I think every single expat should give both a try. Koreans love blind dates and dating apps. I would say give Tinder or another dating app a try to expand outside of your social circle and meet some new people!
Vacation: One of the best parts of working in Korea is the paycheck, which can easily be saved depending on how much time you spend going out and having fun. This ability to save money is great when it comes to taking vacations, and it is easy and fairly cheap to visit such nearby destinations as Japan, China, Southeast Asia, the Philippines, etc. etc. Working at a hagwon or private school, you may find that your vacation days are limited, however. If scheduling flexibility and a lot of vacation days are a priority for you, I would recommend looking into working at a public school or International school.
COUNTRY INFORMATION - MONEY
What are your monthly expenses?
Rent: 0 won (paid for by school)
Food: 10,000-20,000 won (~$9-18 USD) per day if you eat out every day (this is a generous estimate, as breakfast can be had for 1,000-5,000 won (~$1-5 USD) easily, and you can find a filling dinner for 5,000 won (~$5 USD) as well. Lunch is usually provided by the school, and sometimes dinner as well if you are working late.)
Social activities: again, this varies greatly. Prices for beer/drinks are pretty comparable to American prices. You can go on fun weekend activities with a tour group, which is a great way to meet people and see new parts o the country, for about 100,000 won (~$94 USD) for the whole weekend.
Transportation: 1,250 won (~$1.18 USD) per ride on the subway or bus. Again, how much you spend will depend on how much you use transportation such as this.
Phone: 40,000 won (~$37 USD) for an unlimited phone plan per month.
Travel: depends of how far away you are going, and how often you are traveling! I would say 100-300 US dollars for a trip within the country, and 500 USD or more for a trip out of Korea.
Utilities: usually less than 100,000 won (~$94 USD) per month.
How would you describe your standard of living?
Excellent. I was able to live very comfortably, with an active social life and plenty of money to buy clothes, etc. (treat-yo-self money!) I took a few trips throughout the country each year and also probably one "big" vacation (to another country). I also was able to pay off my credit card, and save up for a three month trip to India, including spending a month at Yoga Teacher Training, when I left.
In your opinion, how much does someone need to earn in order to live comfortably?
The average starting salary for a full time job for a first time teacher is 2.1 million won per month, and I think that is a fair wage to live comfortably.
ADVICE FOR PROSPECTIVE ENGLISH TEACHERS
What advice would you give someone planning or considering teaching abroad? Would you recommend teaching in your country?
I would say, just go for it! You'll never know unless you try it, and you'll learn so much about both yourself, another society, and even your own cultural assumptions. If you have a bad experience, you can always leave! I am so happy that I chose to teach abroad, and I think that it has really helped to shape me as a person for the better.