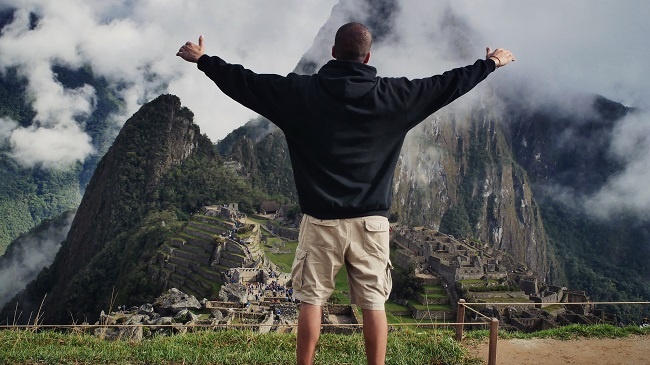 What is your citizenship?

United States

What city and state are you from?

Reno, Nevada

How old are you?

24

What is your education level and background?

Associates degree

Have you traveled abroad in the past?

Some international travel with friends, family, business, etc.

If you have traveled abroad in the past, where have you been?
Australia, Thailand
What sparked your interest in going to teach English abroad?

I was talking to someone in a hostel in Australia and it sounded interesting.

What were some of your concerns before teaching abroad?

Will I get a job and will I be trained properly?

What did your friends and family think about you moving and teaching abroad?

They didn't care too much. They thought it was cool and always ask why don't I settle down and stop traveling.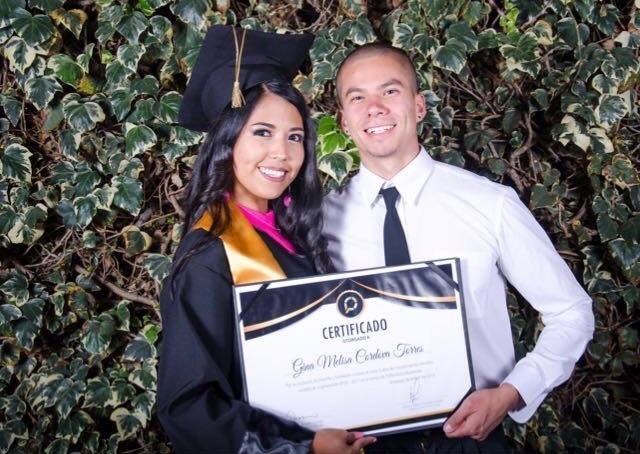 TEFL CLASS INFORMATION
Why did you decide to get TEFL certified and choose International TEFL Academy?

I wanted to teach abroad. I was about to do Oxford seminars, but last minute I looked up bad reviews and then decided to keep looking for a legitimate TEFL school. Then I found your website and spoke to a lady which made me feel confident that this was the program for me.

Which TEFL certification course did you take?

Peru - Arequipa

How did you like the course?

I loved the course. I felt every cent I spent was well worth the course. It was so intense and I learned stuff I could have never learned online by myself. My teachers Emma and Bill were sone of the best I have ever had. They have a methodology that is particular to their school, but it works so well. Basically 8 hrs a day, 5 days a week. 5 observations, 5 teachings observed and two papers that are 10 pages each and a test of course. To pass you must get a 70% in everything.

How has your TEFL training helped you in your current teaching position?

It has helped me on an extraordinary level. I teach in the same school I received my TEFL. What I learned in the TEFL course, I use in school and the more I teach, the less I have to look back on my notes.

Which city and country did you decide to teach English in and why?

I decided to teach English in Peru in the city of Arequipa. This is where my journey started and got a job right away. But I choose Peru because it is cheap and in South America.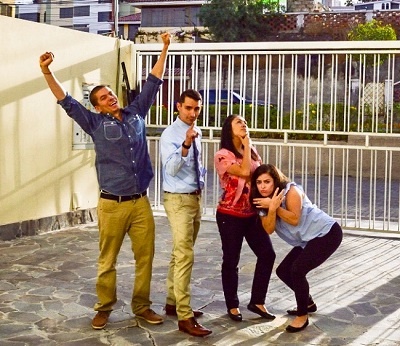 How long have you been in this country and how long do you plan to stay?

I have been here for seven months now, and there is no plan. I'm thinking two more months if my business goes well.

What school, company, or program are you working for?

Extreme Learning Center

During which months does your school typically hire?

Every month

Did you secure this position in advance of arriving?

No

How did you interview for this position?

In-person interview

What kind of Visa did you enter on?

Tourist visa

Please explain the visa process that you went through.

You go to the border and never say you are here to work. You should also ask for 180 days as they usually give only 90 days or less.

What are the qualifications that your school requires for teachers? Please check all that apply

- TEFL Certification
- Native English speaker

What is the best way to apply?

In-person
Tell us about your English teaching job!

Hours per week: A full schedule is 3 classes and 1 kids' class. Classes are 2 hours each and kids' class is only on weekends for 3 hrs. The schedule can look ugly at times such as 7am-9pm, then back to work 5pm-9pm. So full schedule is 33 hrs a week. If you want another class, then you can ask, but to get a full schedule you must be hired a month before. I enjoy 1-2 classes a month as I have a business I am running.
Pay: Pay starts depending on your background and if you are a native speaker as the schools reputation is largely based on having native speakers. Usually pay rate starts at 13 soles an hour and caps at 15 soles an hour. It usually goes up 0.50 soles an hour every month. This converts to starting salary of $4-$4.50 per hour.
Ability to Save: If you work full time, you will be able to save but only if you don't like to eat. Average salary rate is 1600 soles a month but I spend about the same every month. I have been keeping a budget and mark everything down for the past few months as I was curious where all my money was going. It all goes to food and rent and some for doctors and going out.
Type of school: I am working for a private intuition.
Type of students: I teach adult classes 5 days a week aged from 14-60 but they usually keep the classes within the same age. SO most groups of 14-16 year olds, groups of adults in their 20s and others with groups of 25 and up. Kids range from 3 years old to 12 but only Saturdays.
Vacation time: Every month there is a new cycle for classes, so everyone gets about a week off to relax or travel. You may also request a month off at any time with proper notice. This school is amazing and I love my job.

How did you find somewhere to live and what is it like? Do you have roommates?

I started with the housing that the school provides but only for TEFL students. Then I met a local friend and her extended family with whom I moved in with for a cheap price. However, I got bored there, so I moved to a hostel with private rooms. I pay 400 soles a month and have two roommates that are here for extended periods teaching and guests come here and there for a one day stint.

COUNTRY INFORMATION - FUN!

Please explain the cultural aspects, public transportation, nightlife, social activities, food, expat community, dating scene, travel opportunities, etc...

Cultural aspects: The culture here is pretty conservative. Abortion is highly illegal, but the influence of the United States is here in the form of movies and clothes and style. They are very very very proud people. They are friendly and if you like going out, the parties are very wild and lots of fun.
Public transportation is cheap. We are taking an Uber and they also have BEAT which cost 4 soles a trip about 3km away so $1.20. Then we have combis which I use which cost 1 sole which is like $0.30.
Nightlife: The nightlife is extremely fun because it is Peru. Nothing else needs to be said.
Social activities: There isn't much to do here besides drink and socialize with friends. There are races like 10Ks and lots of beautiful places to explore but mostly out of the city. There are gyms and just normal things that most places have.
Food is good. They have a lot of specialties and eating out is cheap if you know where to go. 7 soles gets a full meal. You can also shop at the supermarkets for pricier food or go to the farmers' markets and get fresh meat with flies everywhere.
Dating scene: The dating scene is pretty good. I met my current girl after being here for two weeks and have been with her for six months now. I have friends that bring three different girls home every night. Not ideal but theres something for every type of person. People mostly just speak Spanish here, but you will be surprised how many can speak some English.
Travel opportunities: There is so much to see here in Peru it is crazy. There is Machu Picchu, rainbow mountain, reverse bungee jumping, colca canyon, misti, yura, Ica, Iquitos. The list goes on and on and on and it is all relatively cheap, but watch out what time of year you go to avoid the rain.

COUNTRY INFORMATION - MONEY
What are your monthly expenses?

Rent including everything, I pay 400 soles a month average for a private room
Food I spend roughly 800 soles a month. Milk that is UHT 3 soles a liter. Milk that is fresh already pasteurized in store 6 soles a liter. Steak is 30 soles a kilo, bread 6 soles a kilo, bananas depending on season 2 soles a kilo. These are supermarket prices, so if you want cheaper there are ways but require more effort.
Social activities include drinking, parties with local and teachers and clubs, karaoke, bowling, eating.
Phone/internet: The main phone people have is a company called CLARO. Don't buy this as it is really expensive especially if you don't go on a plan. It gives 10 soles for 500mb. Go with a company called Tuenti. I wish I knew about it when I arrived. I get 9.5gb, 100,000 minutes, unlimited Instagram, Facebook, Whats app, and Spotify for 30 days all for 30 soles.
Travel is cheap. Just go by bus and you will be fine. Planes within country are cheapish but expect to pay $100 a flight if you don't look hard.

How would you describe your standard of living?

It is pretty relaxing. Sometimes there is no water; sometimes I get electrocuted in the shower. Food is good, but I've gotten sick a lot since I arrived here, so be very very careful and then be careful on top of that when it comes to eating. Remember to throw paper in the bin and not in the toilet, and also don't drink from the tap and cook the meat.

In your opinion, how much does someone need to earn in order to live comfortably?

You must work full time as a teacher and you are there. A local who works minimum wage probably lives with their parents and makes about 850 soles per month. I have interviewed security officers, and they work 12hrs a day 6 days a week and make 900 soles a month. I work 33 hrs a week and earn 1800 soles a week and that is not enough. So with 900 you must live with your parents, live far from the center, and take combis.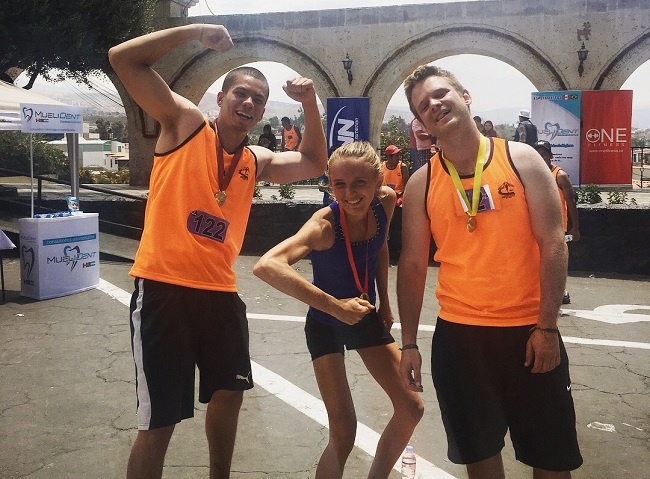 ADVICE FOR PROSPECTIVE ENGLISH TEACHERS
What advice would you give someone planning or considering teaching abroad? Would you recommend teaching in your country?

Just go. Forget the planning. Come to travel, talk to people, and everything will work out. Trust me.