Buraydah, Saudi Arabia English Teaching Q&A with Tristan Barron
TELL US ABOUT YOURSELF
What is your citizenship?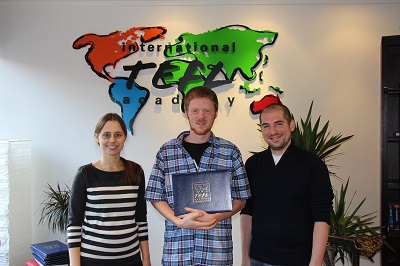 United States
What city and state are you from?
Naperville, IL
How old are you?
23
What is your education level and background?
Bachelor's Degree
Have you traveled abroad in the past?
Studied abroad
If you have traveled abroad in the past, where have you been?
Jamaica, Australia, France, UK, Germany, China, Austria, Poland, Saudi Arabia
If you have studied abroad in the past, where did you study?
Austria
What sparked your interest in going to teach English abroad?
I wanted to maintain the life of international travel I had growing up and in such a way that I could learn a great deal from the sustained attention I could give another culture through the medium of education. I chose Saudi Arabia in particular because of its mercurial status as both a rich and developing country, a topic I had spent a good deal of time studying in college.
What were some of your concerns before teaching abroad?
That more would be expected of me than I could deliver.
What did your friends and family think about you moving and teaching abroad?
Mostly apprehensive and excited.
TEFL CLASS INFORMATION
Why did you decide to get TEFL certified and choose International TEFL Academy?
TEFL certification seemed a matter of course for teaching English abroad, and most certainly for teaching in the Middle East. Even if it were not required, I would still have taken the course because I knew very little about teaching other than the internship I had in Austria during study abroad. A formal introduction to the field would serve me well.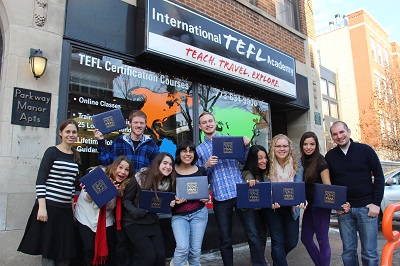 Which TEFL certification course did you take?
USA - Chicago Onsite TEFL Class
How did you like the course?
I thought that the instructors were competent and fair, and the practicum extremely helpful, if at first nerve-racking. Most of the tasks were very helpful.
How has your TEFL training helped you in your current teaching position?
I have been able to understand and reflect upon my classroom experiences in light of what I was taught in my course. Certainly, only very little of what is learned in a TEFL course can be implemented in the classroom on the very first day.
TEACHING ABROAD IN SAUDI ARABIA
Which city and country did you decide to teach English in and why?
I teach English in Buraydah, Saudi Arabia. I explained above my motive for teaching in this country. This city is where the best (and only) job offer came from, so I took it in a proverbial heartbeat.
How long have you been in this country and how long do you plan to stay?
I have been here for three weeks. I plan to stay at least until the end of my probationary employment period, which is three months. I had hoped to stay at least one year, and I may yet, but that is only a contingency.
How did you secure your English teaching job?
I applied online to several job postings. One of the first I responded to called me back wanting more information. I worked through this recruiter who submitted my application to the employer. I had an interview and a job offer was made.
How did you get your work visa? If you didn't get a work visa, please elaborate on working under the table without a work visa.
I am here at the moment under probationary employment and on a 90-day business visit visa. My employer assures me that this arrangement is legal. I am inclined to believe them given that my salary will be paid direct deposit to a bank account and I signed a legal contract enforceable under Saudi Law. If I pass my probationary period, I will obtain a legal work visa and permanent residence card.
Tell us about your English teaching job!
I teach 15 contact hours a week. My curriculum leader assures me that this is low, as the standard is 20 hours, but there are other difficulties which make up for the low contact hours.
My salary is just over $50,000 per year. My employer pays for my accommodation at the only Western compound in the city, where all the Western faculty at the college live as well. My airfare here was paid by the employer as well. I have not yet worked about a budget precisely, but I expect that I am saving at least half of my salary, if not more. I have 30 days of vacation a year, but I have given absolutely no thought whatsoever to when I would take it or where I would go, yet.
I work at a technical and vocational college. It opened only in September 2013, so the only departments running now are English and IT. The IT department consists of one instructor, while the English department is about 17 or 18; I can't remember exactly. All are men.
The students are male Saudis mostly between the ages of 16 and 22, with some older still. There are approximately 200 students at the moment, although the college will ultimately serve upwards of 2,000. They are starters and elementary level students, although teaching them is a challenge because some really aren't even that level yet, and many have a, how shall I say it, less-than-eager attitude toward education. It's important to remember that formal, classroom education is still very new for most Saudis, and that the whole society is only now learning how to cope with industrial life.
How did you find somewhere to live and what is it like? Do you have roommates?
I was given my accommodation by my employer. I have no roommates.
COUNTRY INFORMATION - FUN!
Please explain the cultural aspects, public transportation, nightlife, social activities, food, expat community, dating scene, travel opportunities, etc. about your country:
This is Saudi Arabia. There is no dating, and there is not supposed to be any fun- well, sort of. I hear drifting cars on the highway from my apartment, but I have thankfully yet to hear any collisions from the same.
There is no noticeable public transportation within Buraydah. All locations are accessible by taxi. Even thought I was promised an internet connection in my apartment in the offer letter, no such connection was ever actually provided. I must use the service in the compound administration building. Since I have no residence permit, I cannot legally purchase a SiM card, a TV satellite dish, or an Internet connection router. I could get these on the black market... not that it's difficult, but it's still unofficial. The cab drivers seem to be able to find anything here.
The food is one of the real bright spots. Supermarkets are well-stocked with familiar Western food, if not all the brands you know. Of course, there's no peanut butter... except in the compound convenience store, but it's quite expensive. The subcontinental restaurants are dirt cheap and amazing; the large Indian and Pakistani communities here support a thriving immigrants culture to which my mostly British colleagues have introduced me.
Most of my social life consists of talking shop with colleagues about how to teach better and complaining about work. It's all good fun. Maybe we'll put on a talent show of some kind.
I do not yet feel comfortable going about the city at night by myself. In either case, since I live far from the city center, a taxi ride in and out is necessary, and I would rather share the expense with others, who usually want to go in only for shopping or for dining.
COUNTRY INFORMATION - MONEY
What are your monthly expenses?
I haven't worked out any of these in precise detail, having spent most of my time thinking about teaching and lesson plans, not to mention trying to sleep.
Since I have no phone with which to make calls, I have no phone bill. Transportation to and from the College is provided by the company. A taxi ride into and out of the city is sixty riyals round trip, which is about $5, but split three ways between the passengers ends up being about $5.
Since there is no real nightlife outside the compound, at least not that I have discovered yet, I have no expenses in that regard. And of course, I pay no rent and do not pay for utilities.
How would you describe your standard of living?
Almost Western, if you don't need a great deal of external stimulation.
In your opinion, how much does someone need to earn in order to live comfortably?
Probably less than half my salary, but then again, if I were earning only that much, I wouldn't be here, would I?
ADVICE FOR PROSPECTIVE TEACHERS IN SAUDI ARABIA
What advice would you give someone planning or considering teaching abroad? Would you recommend teaching in your country?
Thoroughly research the employer before you go. Get them to promise you everything that they say you will have in their offer letter and information materials. Be aware that newly-formed subsidiaries that are part of big corporations can be very much like start-ups staring from scratch without the support of a big, overarching organization.
Your employer's left hand may not know what its right hand is doing. Be prepared to answer questions from managers or colleagues who don't seem to have a clue what you may have been instructed to do by some other authority figure in the same company.