Basic Guidelines and Requirements for Americans
1. A passport with an expiration date at least six months after your planned stay.
2. To be enrolled in an Italian government recognized language school or university.
3. A long-stay Italian student visa can take 2-4 weeks to process.
How to Apply for Your Italian Student Visa?
(The application procedure and necessary documents may differ slightly between consulates. You must check with the Italian consulate that resides over your jurisdiction for the most accurate information.)
Once you've found the closest consulate please schedule an appointment with the Phone Appointment Service through the Italian consulate.
To apply for your visa you must visit, in person, the closest Italian consulate to your home address.

Here is a list of needed documents when you go to your appointment:
Completed Application Form
Passport Photo
Valid Passport
Copy of Identification Passport Pages
Original + 1 copy of Driver's License or State ID
Original + 1 copy of Acceptance Letter
Proof of financial means - To apply for a student visa you will need either a bank statement showing $1,000 for each month of stay in Italy or an affidavit of support from parents. This is a notarized document and here is some suggested wording " I hereby certify that I, the (father, mother, other), of (full name)will support him/her with a monthly allowance of $1,000 while she/he is in Italy and that I will be financially responsible for any emergency."
Proof of Health Insurance (there are many inexpensive international health insurance agencies)
Proof of Lodging
Confirmed round-trip flight information. If you are staying for longer than 6 months you will need a one-way ticket with proof of enough funds for a return flight home.
A pre-paid, self-addressed, return envelope from the United States Postal Service.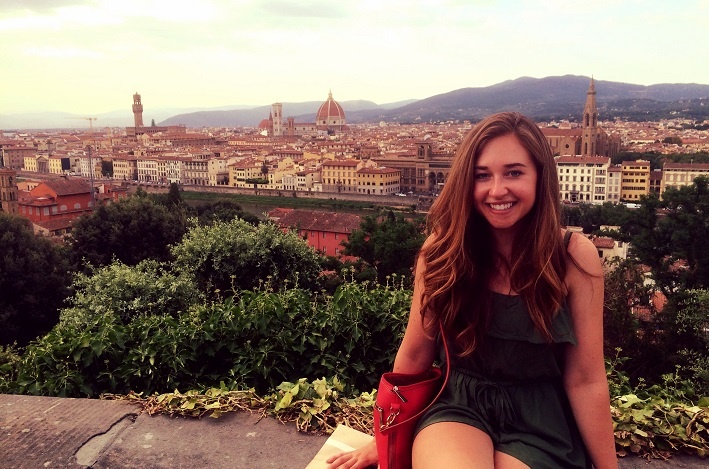 ITA grad Madelyn Harrick teaches English in Lombardia, Italy on a student visa. Read her interview.
To teach English in Italy with a Student Visa…
Once you´ve arrived in Italy, you will need to apply for a Permesso di Soggiorno, which is a residency stay permit. Application for the Permesso di Soggiorno can be made at the local post office within eight days of arriving in Italy. The application can take up to three months to process.
Here is a list of documents you´ll need to apply.
Completed application form (form is available from the Post Office).
Valid passport, plus photocopy of the photograph page and visa page if applicable.
Four identical recent passport photographs.
Tax stamp (marca da bollo); available at tobacco shops and post offices.
Proof of public health insurance (see below).
Program acceptance letter from your language school.
A special Health Insurance must be bought at the time of application for the Stay Permit at the Post Office. It is INA insurance (Istituto Nazionale di Assicurazione) and becomes valid when you buy it. The price is 49 euros for 6 months and 98 euros for up to one year.
To work you will also need a tax number (codice fiscale). Once your Stay Permit is requested, this is applied for at the tax department.

Note, student visas are not an "automatic" thing that are purchased. Consulates are notorious for being very particular on every item needed on their checklist and will send you home to get it perfect before issuing a student visa. Also, the application process and/or requirements are known to change frequently. Please contact your nearest Italian consulate for the latest updates.
Learn More about Teaching English Abroad
Fill out a contact form or call us at 773-634-9900 to speak to a trained advisor about all aspects of job opportunities for teaching English abroad & TEFL certification.
For more information on teaching English in Italy, check out: