From Germany to Argentina, Discover Top Futbol Countries for Teaching English Abroad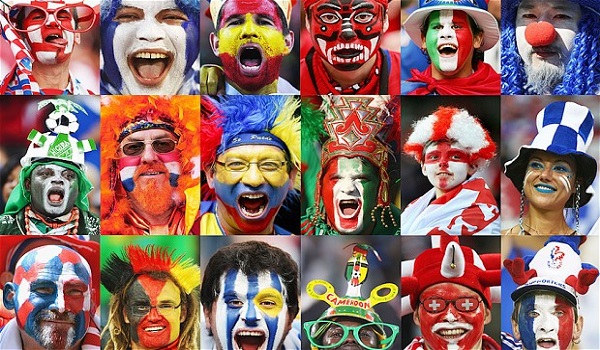 By Gabriela Fernandez


World Cup fever is on! As the drama of the world's favorite sporting event unfolds in Brazil, hundreds of millions of people across the globe have been glued to televisions, radios and the Internet watching the matches, celebrating victories and crying for those who didn't make it to the next round. As a Chilean now living in the U.S., I understand that for many Americans the World Cup isn't as popular as the Super Bowl or other sporting events, though Americans are just getting a taste of how a sport like futbol (as soccer is known throughout most of the world) can unite a country and stir national passions like nothing else, not even the Olympics.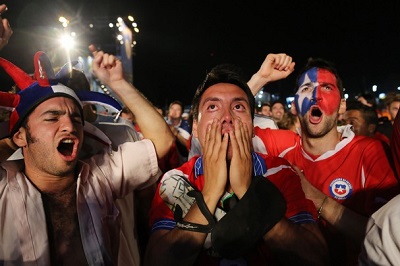 In most countries around the world, everything stops when the national team plays in a World Cup match. I remember that even in my all-girls Catholic high school in Chile, the nuns canceled classes so that we could all cheer on the national team. Those were epic and joyful moments that inspired feelings of pride and unity. I remember going home to join family and friends, because in Chile and many nations watching important futbol matches, it's like any other major holiday. Gathering with a large group to enjoy an asado barbecue, to cheer together, sing the national anthem, to celebrate an amazing play and of course, jump from your seat in frustration and point your finger at the TV when a referee slights your team. Hugs, high fives, singing chants and songs and shouting in unison: GOOOAAAAAAAALLLLLLLLLLL!!!!!!!! That's what it's all about! Futbol inspires such a range of emotions that we experience collectively, and it creates unique sense of belonging. And that's what futbol represents not just in Chile, but across the globe.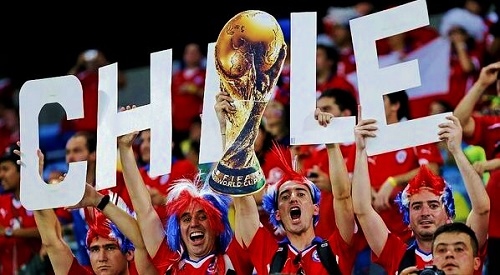 Building International Friendships through Futbol
I fondly recall the first time I experienced the World Cup in a foreign country while living in South Korea in 2010 and it was truly memorable. I organized gatherings to watch and cheer for Chile, but because I had already been living abroad for 2 years, at that point my heart was with Korea too, so I joined with my local friends and cheered for them as well. Meanwhile, I also had expatriate friends from Brazil and Argentina, so despite the natural rivalries between our nations back in South America, the three of us decided to show support for each others' home countries and watching every match provided a fantastic international bonding experience in addition to an excuse to throw parties nearly every day for a month.
Top Countries for Teaching English and Experiencing Futbol
But futbol does not begin and end with the World Cup. In nations across the globe, local club teams are followed with a fervor and passion that is passed down from generation to generation and loc
al rivalries make Duke-Carolina or the Red Sox-Yankees look downright tame. Whether you are teaching English in Madrid, Munich, Buenos Aires, Rome or nearly any other major city, particularly in Europe or Latin America, you can catch world class soccer on nearly a daily basis and immerse yourself in the local culture by becoming a fan of a local futbol club.


As an English teacher abroad you will be able to enjoy the World Cup and discover the local futbol culture as a local. So it doesn't matter where you are right now or where are you going to be during the next World Cup…cheer for Chile, Brazil, Argentina, Italy, Spain, Germany, South Korea, Japan, the States, or any other country but feeling it and take the most of it! Viva el Mundial! Viva futbol!
Now, here are some examples of top futbol countries for teaching English abroad with some tips for great places to watch matches......
Argentina
The nation that gave the world such futbol legends as Lionel Messi, Mario Kempes and of course, Diego Maradona, is an ideal locale to discover the passion of soccer that permeates nearly every nation in Latin America. In addition to following the national side in major international competitions like the World Cup, if you are teaching English in Argentina, you should definitely plan on attending matches of top club teams like River Plate and Boca Juniors. You can also catch World Cup matches and other major fixtures at virtually any local tavern or in major sports bars in Buenos Aires like Locos X el Fútbol (X stands for 'por'), Super Buenos Aires, The Casa Bar, and Novecento.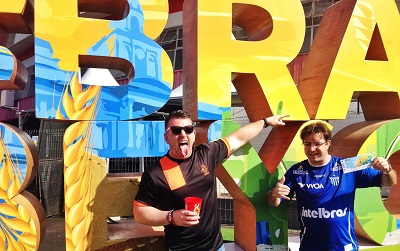 International TEFL Academy graduate, Degen Hill (left), catches a match and makes a friend at the 2014 World Cup in Brazil
Brazil
Brazil is hosting the 2014 World Cup and futbol is the air! A favorite to win the 2014 World Cup, Brazil boasts a soccer tradition that remains unmatched. It is the only nation to have won the World Cup five times and its top players (the best of which are given one-name nicknames) comprises a "who's who" list of the greatest soccer stars, from Zico, Socrates and Ronaldo to Rivaldo, current star, Neymar, and of course, Pele, the greatest soccer player in history. In Brazil, futbol matches at all levels are accompanied with typical Brazilian flair, including samba dancing, batucadas and parties. If you are teaching English in Brazil, hopefully you've been lucky enough to catch a World Cup match live, but if not, you can catch the matches at local bars and restaurants or major sports bars in Rio de Janeiro like S.O.B's, Lord Jim pub, Mud Bug, Red House Burgers and Grill. If you can't make it to the stadium, no worries, TV's will be on all day long and everywhere!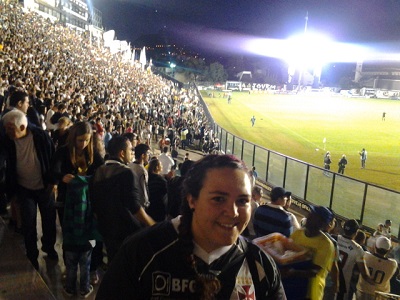 International TEFL Academy graduate, Amanda Moutinho catches a match in Rio de Janeiro - learn more about her experiences in Brazil in Rio de Janeiro, Brazil Q&A with Amanda Moutinho
Chile
Though it doesn't boast quite the pedigree of rival nations like Brazil and Argentina, Chile has emerged as a major international futbol power over the past decade and its strong showing at the 2014 World Cup has earned its squad respect throughout the soccer world. If you are a futbol fan teaching English in Chile, you can catch matches in virtually any local bar, cafe or club. Many expats often head to California Cantina and Restaurant, and many other bars in Bellavista. You can also easily pick your venue through this site, which provides loads of ideas for venues to meet others and watch matches.

Uruguay
Did you know that Uruguay hosted and won the first World Cup in 1930 and that it is also the smallest nation to have won the sporting world's most coveted trophy? Today, it remains a world power in futbol and the passion of its fans are second to none. If you are teaching English in Uruguay, visit https://www.facebook.com/Es.Molee.Bar to learn more about how you can catch all of the matches in one of Montevideo's hottest bars.

Costa Rica
Si se puede! - Yes we can! That is the motto for Ticos (as Costa Ricans are affectionately known) whose squad is certainly the surprise of the 2014 World Cup, having made it to the quarterfinals. Those traveling and teaching English in Costa Rica will be sure to find cheering locals in virtually any bar and in many city squares as well, and you can also check out Hot Magazine for listings of bars and clubs that show matches.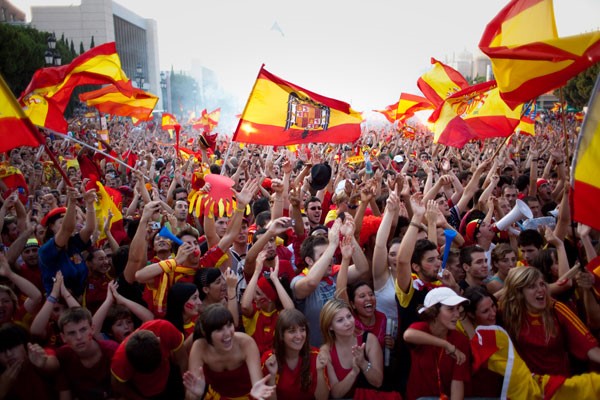 Spain
Despite an early exit from the 2014 World Cup, Spain remains one of the top futbol countries on earth. Their supremacy on the international level has been unquestioned over the past decade as the La Furia Roja (Red Fury), as the team is known, won two European Championships in addition to the World Cup in 2010. Spain is also home to one of the top leagues in the world, La Liga, and club teams like Real Madrid and FC Barcelona, are among the most storied in the history of the sport, with each winning the UEFA European Champions League on numerous occasions. So, even though the national team was knocked out of the 2014 World Cup by Chile, English teachers in Spain can continue to catch top notch action and world renowned superstars like Neymar, Lionel Messi and Cristiano Ronaldo, who all play for teams in Barcelona and Madrid.
Italy
Know the the Azzurri for the blue color of their jerseys, the Italian national team has captured the World Cup four times - more than any nation, save Brazil. Though they were knocked out in the first round of 2014, Italy is a fantastic location to teach English if you love soccer or want to experience the sport at the highest level. The top national league, the Serie A, is home to many of the world's top players and most famous teams, including Roma, AC Milan, Inter Milan, Napoli (where Maradona played), Juventus and others.
Germany
There's a famous saying in the world of futbol: "In the World Cup, when the going gets tough, the Germans get going." Though Brazil and Italy have won more World Cups, no nation has reached the semifinals and finals more frequently than Germany. Known for their technical style and excellent teamwork, the Germans can always be counted on to go far in the World Cup and other major competitions. Soccer lovers who teach English in Germany will find themselves in heaven as the nation is home to top level club teams in the Bundesliga, such as Bayern Munich, Borussia Dortmund and Bayer Leverkusen. Of course, Germany is a world capital of beer and few pleasures in life match joining with friends and strangers alike for a refreshing Null-Fuenf Hefeweizen and a top level futbol match. English teachers in Germany and visitors looking for top bars across the country will love this guide.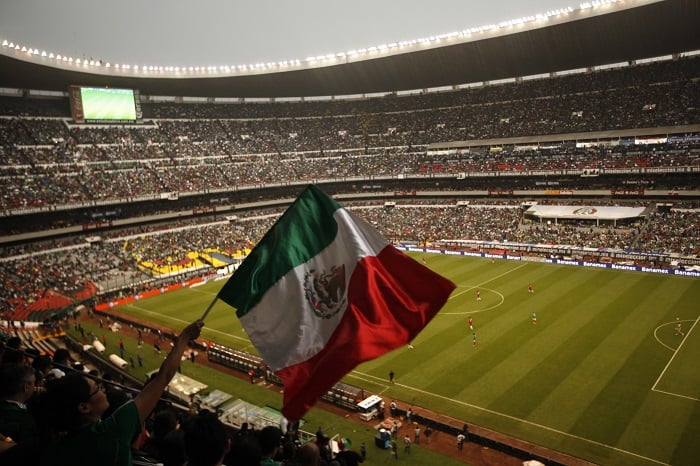 Mexico
Though it has never hoisted the World Cup trophy, Mexico represents a hotbed of futbol passion, talent and history. The nation is one of only a handful of countries to have hosted the World Cup twice, in 1970 and 1986, two of the most famous finals in history highlighted by the exploits of Pele and Maradona. In recent years, Mexican players have emerged as major international stars and domestic teams are passionately followed by millions. A certain highlight for any futbol fan teaching English in Mexico will be to catch a match at Mexico City's Estadio Azteca, one of the most iconic soccer stadiums in the world with a capacity of more than 100,000!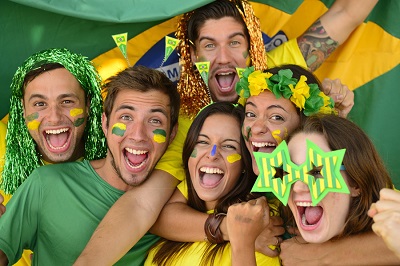 These are just a few of the great nations of futbol where you can teach English abroad. You can certainly experience the joys of the world's most popular game in dozens of other countries as well from Portugal to Peru.
Want to join in the fun? Learn more about how you can get paid as an English teacher abroad.

Request a free brochure or call 773-634-9900
773-634-9900 to speak with an expert advisor about all aspects of TEFL certification and teaching English abroad, including the hiring process, salaries, visas, TEFL class options, job placement assistance and more.


More articles about living and teaching English abroad from Gabriela: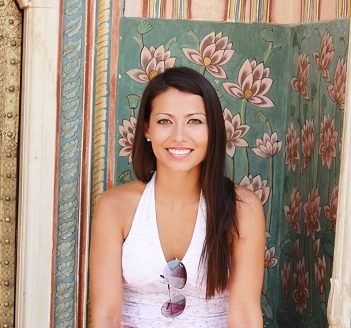 About the Author - Gabriela Fernandez is a passionate traveler, journalist, writer and political scientist with extensive international experience working as a broadcaster, writer and actress for television channels, radio stations and magazines across the globe. With a Master's Degree in International Development & Cooperation, she has explored cultures and cuisines the world over while traveling to 6 continents, more than 20 countries and hundreds of cities worldwide.