Alumni Video:
Teaching English in Uruguay with Adria Baebler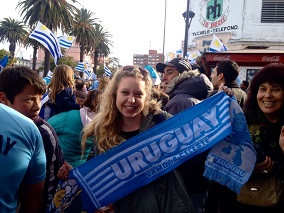 Often over-shadowed by its much larger and more famous neighbors, Argentina and Brazil, the South American nation of Uruguay represents an up-and-coming job market for teaching English in Latin America. It is also one of the most economically prosperous nations in the region, and provides a wealth opportunities to discover regional culture, cuisine and history.
In this new alumni video, International TEFL Academy graduate, Adria Baebler, of St. Louis, MO, shares her experiences living and teaching English in Montevideo, Uruguay. She discusses her TEFL class in Chicago and various aspects of her life as an English teacher.
Watch the Video:
Want to learn more about Adria's adventures teaching English in Uruguay? Check out:
Learn More about TEFL Certification & Teaching English in Latin America: