1. How many hours do students spend in the class and on course work during the course?
Students will spend around 6-8 hours in class a day, including some work time to ask questions and get guidance on lesson planning and assignments.
2. In regards to practice teaching, how many hours is it and when does it take place?
There are 6 practice teaching classes that take place twice a week during weeks 2, 3, and 4 . The students are volunteers from the community and local institutions, teens and adults of all skill levels.
3. How many assignments are there throughout the course and what do they consist of? How many hours of homework do students typically have outside of class?
Reading the textbook, 11 quizzes taken online, Learner Profile project where students will be working in pairs to assess one EFL learner and develop appropriate lessons, and 5 additional assignments including lesson plans, an essay and a textbook evaluation. Students can expect to spend at least 2 hours a day working on tasks outside of class.
4. Will grammar be taught during the course? Are there additional grammar resources in the course materials?
Yes, grammar is taught throughout the course. ITA Grammar Module, suggested websites and many materials given in class.
5. Is there a textbook for the course? If so, where can students purchase it?
Yes, there is a textbook that can be purchased here and it can also be purchased on campus in Costa Rica.
6. Are there any specific technology requirements for the course?
Yes, a laptop and a flash drive are required (not a tablet). Students should have a good understanding of a word processor like Word or Google Docs.
7. How can students prepare to take their course at your school and/or in your country? Are there any assignments they need to complete prior to the course?
ITA's Grammar Module is strongly suggested. Read all material sent by Student Affairs. Prepare job search materials, such as reference letters.
8. Does your school recommend accommodation options or arrange it for students?
Students can stay on campus or arrange housing on their own. Each student who stays on campus will have a private room with a shared kitchen and bathroom with one other student. The cost to stay on campus is $600.
9. What should students bring on their first day of class?
Bring a notebook, pen, and laptop on your first day. Class starts at 8:30 am!
10. Is there anything else specific to your course or school that prospective or current students should know?
Beautiful campus, minutes away from the beach!
Who should I contact if I have more questions about the International TEFL Academy Costa Rica TEFL Class?
If you are a prospective student, please contact an Admissions Advisor by calling (773) 634-9900.
If you are an enrolled student, please contact the Student Affairs Department.
Our experienced Student Affairs Department is dedicated to helping our students prepare for their TEFL class & to succeed in achieving their goal of teaching English abroad. All members of our team have lived, worked & taught English abroad and they all possess years of experience in the field of TEFL.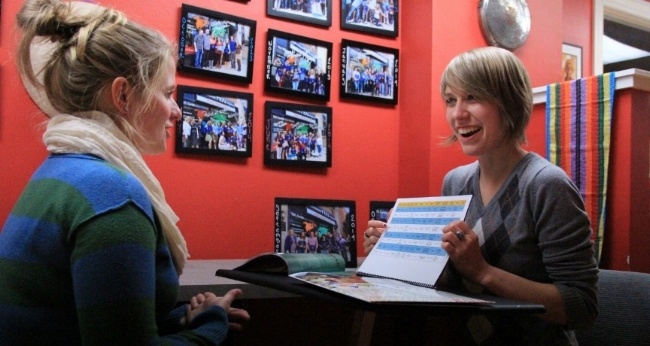 Want to Learn More about TEFL Certification for Teaching English Abroad?
Your first step is to speak with expert advisor who will cover all of your options & questions. Contact International TEFL Academy now for a free brochure and to speak with an admissions advisor. You can also call us directly at 773-634-9900.
Related Resources: