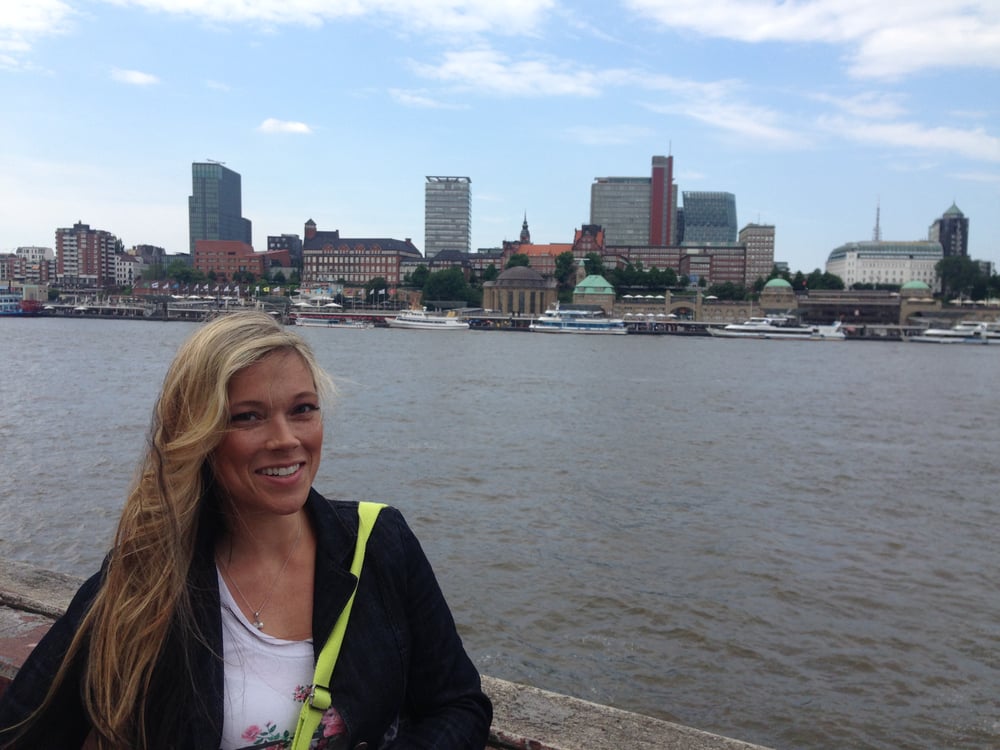 By: Tamie Arietta
Moin, Moin von Hamburg!
It's not too much of a surprise that Hamburg is the second largest city in Germany and arguably the most beautiful. Hamburg has something to offer everyone; you'll discover plenty of surprising and unusual hidden gems along the way. For starters, did you know that Hamburg has more bridges inside its city limits than any other city in the world? There are approximately 2,500 bridges in Hamburg. That's more than Amsterdam, London, and Venice combined.
Continue reading to learn more about my top seven picks for things that may surprise you about this incredible city.
Let's start with a little bonus. We'll call this number 0: The Deutsche Post (Glücksatlas) has rated the Hamburg Metropolitan Region as one of the happiest regions in Germany. The Hamburg MR continues to top the chart as the happiest people in Germany. Sorry Hamburgers, unless the Glückatlas was calculated during the summer months, I disagree. People here are standard-offish and hard to get to know at first. Don't let the distant nature of the Hamburgers steer you away from this bustling city. For centuries, people from around the world have made their way to this seaport area, making it culturally diverse. Each of the seven districts (104 quarters) have a very distinct and vibrant charm. From family neighborhoods to entertainment districts, the culture and vibe throughout the city will make you fall in love with it.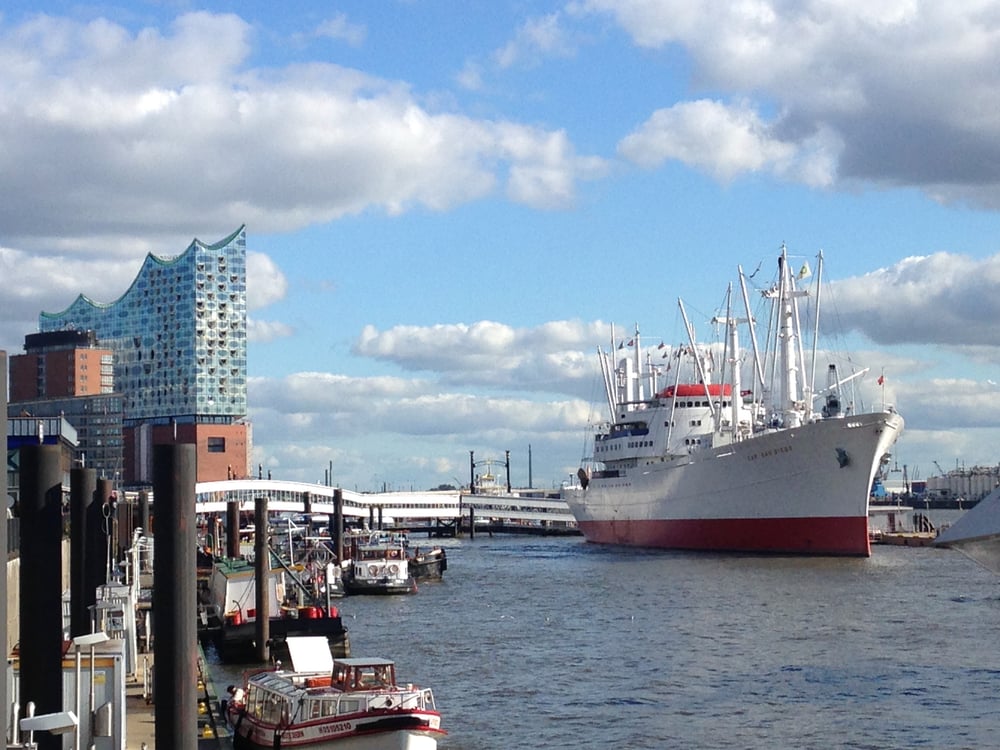 1. Welcome to Hamburg
Hamburg is Germany's largest seaport (3rd largest in Europe) and is named the country's Gateway to the World (Tor zur Welt). In Wedel, lies the Willkomm-Höft (welcome point) for ships arriving at, or leaving the port of Hamburg. On a daily basis, more than 50 ships pass through this point. There are six welcoming captains that man the welcome point. They play the national anthem of the country where the vessel is registered or bid farewell by hoisting the signal flag UW to wish departing ships a bon voyage. The captains have a wide selection of 152 national anthems and recorded greetings in the language of every seafaring country in the world. How about that for a welcome? The captain will even share information about the passing ships to onlookers watching nearby.
2. Schwanenvater
In 1164, swans of the Alster received special protection by the Hamburg council; since then, it is prohibited to hurt, kill or even insult them. That's right, don't insult the Alster swans. In fact, in the 11th century, Hamburg created the unique public position of swan father (Schwanenvater). The swan father is part of the official Hamburg swan authority which only has one government employee. The Schwnanenvater takes care of the swans year round.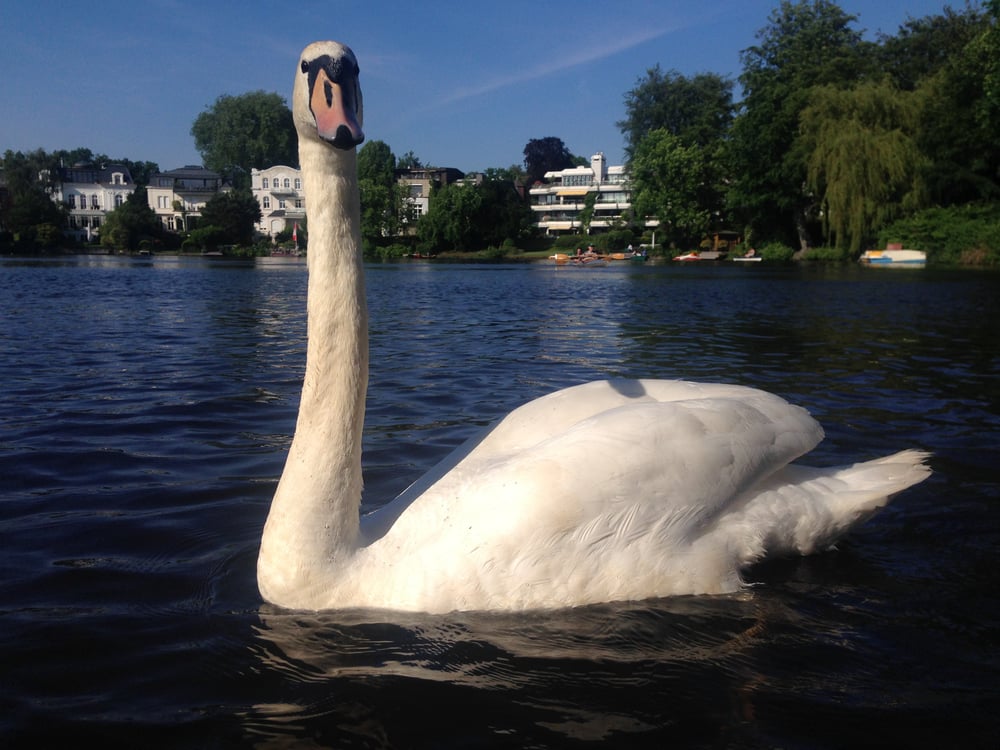 3. Red Light District
Herbertstraße in the St. Pauli district may or may not be well-known. It is Hamburg's shortest street and the city's most notorious street. It has been Hamburg's red light district since the 19th century. Just off the Reeperbahn strip, near the police station, you'll find this street blocked from view by barriers on both ends with signs that say: Entry for Men; under 18 and women prohibited.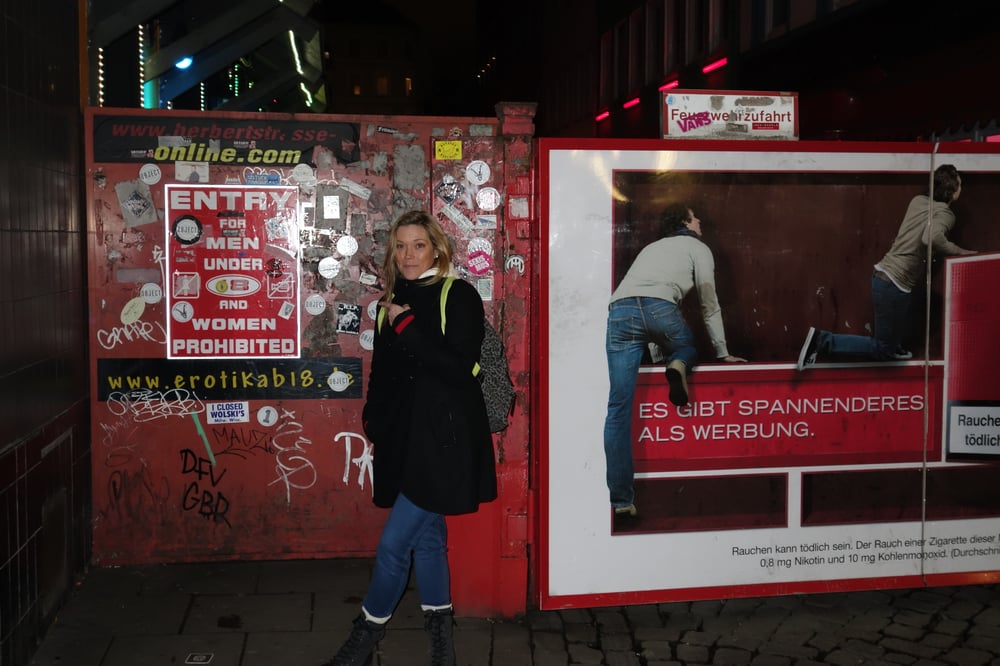 4. Old Elbe Tunnel
About a 15-20 minute walk from Herbertstraße is the protected monument called the Old Elbe Tunnel as known as the St. Pauli Elbe Tunnel. It opened in 1911 and became an essential part of the growth of the city because it connected the north and south side. Numerous film teams have shot on location, and it can even be rented for events. While open 24/7 to pedestrians and cyclist, motor vehicles can only access the tunnel during operating hours. There are large elevators with guards; you can drive, walk, or bring your bike down to the bottom and out the other side. Be sure to check out the views of Hamburg from the south side.
5. Krameramtsstuben (Grocers' Apartments)
Nestled in a small alleyway near the St. Michael Church are historic buildings with some of the oldest surviving residential buildings in central Hamburg. It used to be homes for widows of members of the Grocers' Institute. Built around 1620, now you'll find a few small shops and a restaurant. One of the old apartments has been preserved as a museum.
6. The Music Scene
Doesn't matter what type of music you listen to, from rock to pop to metal to jazz, Hamburg has countless music festivals throughout the year.
The Beatles got their big break while playing in various Hamburg clubs between 1960 and 1962. A plaza called: Beatles-Platz was built to commemorate the role Hamburg played in The Beatles' history.
Elbphilharmonie Hamburg has changed the city's skyline with its odd-shaped glassy Opera house that sits on top of an old warehouse building. Sound isolation prevents noise from the outside including horns of the passing ships, which typically can be heard from a few miles away. For music lovers and architecture aficionados, this is a must-see. It's free (ticket required) to go up to the observation deck to admire the 360-degree view of the port area.
Jimi Hendrix - On the island of Fehmarn less than 2 hours outside of Hamburg, was where Jimi Hendrix performed his last concert. In September 1970, a few days before his death, he performed at the Love and Peace Festival. There's a memorial stone to honor his memory on the Flügge beach.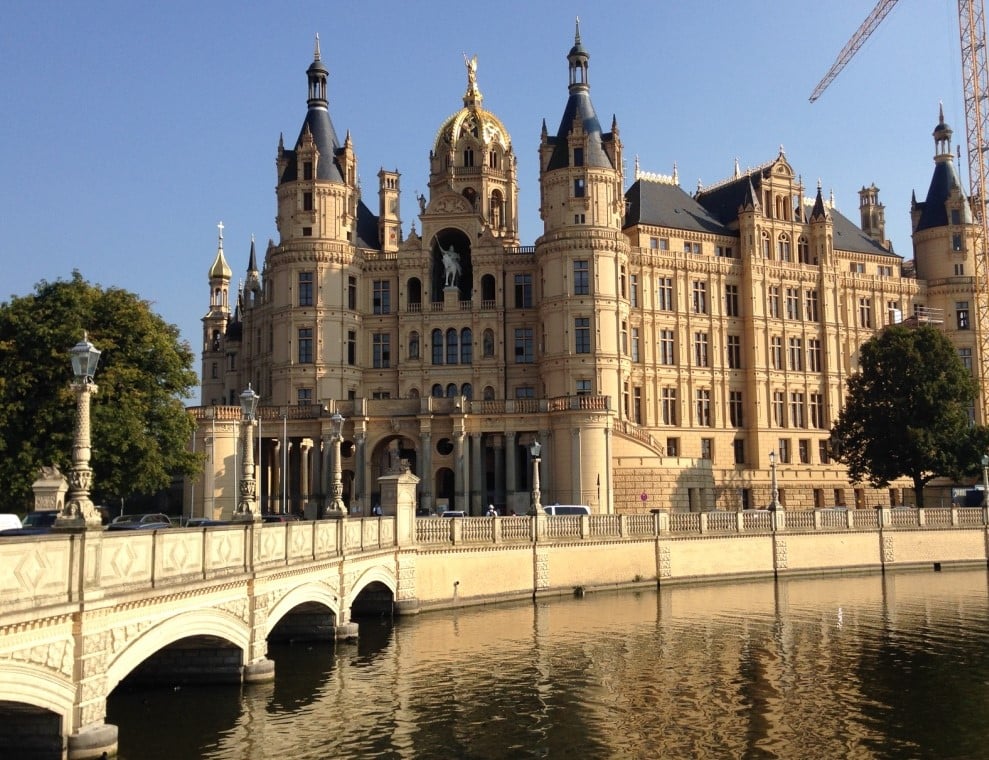 7. Weekly Markets
Hamburg has more weekly markets than any other European city. Over a million people visit one of more than 100 weekly markets (Wochenmärkte). You'll find everything from food markets with fresh produce and flowers to flea markets selling antiques. Probably one of the most popular weekly markets would be the Fischmarkt, established 1703.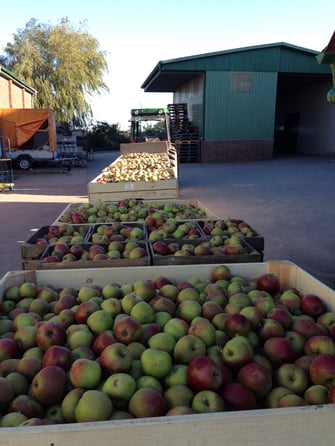 Every week there are around 70,000 visitors. Be warned, it opens at the crack of dawn on Sundays and once the bell strikes 9:30 am, it closes - nothing else can be sold. Why so early? The odd hours date back to the when it began. The market would have conflicted with religious services, so the city found a compromise allowing the market to open at 5am, but required it to close before church.
Another bonus, for those of you who need a break from the city, you'll find plenty of sandy beaches, medieval towns, nature parks, and beautiful castles all within a 1 to 2-hour drive. Hop on a bus or train and explore for the day or maybe spend a weekend away.
Here are some places outside of Hamburg worth checking out.
Altes Land (Old Country): There are approximately 13 million apple trees and few million cherry trees in this area. No wonder it is Germany's largest fruit growing area. Come during the springtime when the apple blossoms bloom. In the fall, pick some of your favorite fruits. If you drive through the town, try to spot a 'Bridal' door. The timber-framed houses in this region are stunning, but many stand out for having beautiful crafted bridal doors. These doors could only be opened from the inside on two occasions: when the groom would carry his bride through the threshold and whenever a family member passed away in the home.
Lüneburg: A thousand years of history here. The production of salt brought wealth and prosperity to this medieval town.
Lübeck: The old part of Lübeck is on an island. The town stands out for it's Brick Gothic architecture but is best known for its marzipan.
Schwerin: The town might be small, but the majestic Schwerin Palace is an absolute must
Stade: First mentioned in records back in 934 and is just outside of Hamburg. Spend the day exploring the cobblestone streets lined with half-timbered houses.
Hamburg Wadden Sea National Park: The Wadden Sea is the world's largest contiguous system of inter-tidal sand and mud flats. Stretching over 500 km along the coastline of three countries: the Netherlands, Germany, and Denmark. Enjoy walks through the salt marshes, take a swim in the sea or take a trip to seal banks. Thanks to the tide, this area is rich in plants and wildlife. Would you believe the seal population is around 25,000-27,000? In 2018, seal puppies were estimated to be around 9,285.
See for yourself what Hamburg has to offer; you'll fall in love and feel right at home in this charming city.
As Heidi Kabel's song goes: In Hamburg sagt man Tschüss, das heißt auf Wiedersehen.
A true nomad at heart from San Diego, Tamie has explored most of the United States but had never been abroad until given the opportunity thanks to a massive layoff from the corporate world. After almost a year of traveling, volunteering, and studying around the world, she found a way to combine her passion for traveling, helping others, and teaching, in Hamburg, Germany. Read more about Tamie.